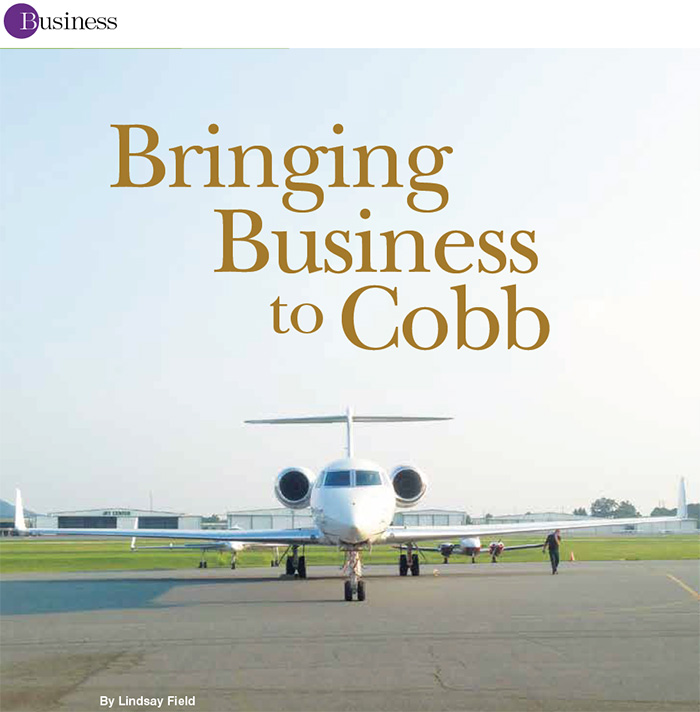 Anyone who has ever visited the mall at Town Center, grabbed a meal at one of the restaurants along Barrett Parkway or even just driven down Highway 41 in north Cobb County can't help but notice planes continuously flying in and out of McCollum Field at the Cobb County Airport in Kennesaw.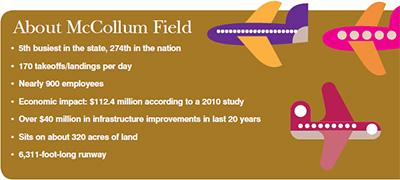 The airport, originally built in 1960, is the 274th busiest airport in the country—there are about 5,000 nationally—and averages 170 takeoffs and/or landings per day. Statewide, it's the fifth busiest, just behind Hartsfield-Jackson Atlanta International Airport and DeKalb Peachtree Airport.
But according to Airport Manager Karl Von Hagel who's directed the facility for 20 years, it hasn't always been that busy. When he first started, McCollum Field had an economic impact of about $12 million and only one jet was on site. Today, it has about a $112 million impact with more than 50 jets and 500,000 square feet of hangar space.
"The growth is attributable to the corresponding growth of Cobb County, the first class facilities of the airport and the increased use of general aviation since the reduced schedules of airline services," Von Hagel says. Cobb County Commissioner Helen Goreham, who represents the district where the airport is located, says in her 12 years on the Board of Commissioners, "The growth in the past couple of years is exactly what we want to see as a county, as long as it is appropriate growth, which this is at the airport."
Cobb Economic Development Director Michael Hughes went on to say that the convenience of the airport and proximity to metro Atlanta is what's helped attract more corporate big-wigs—some of which are Fortune 500 companies that can't be named due to privacy—to either relocate or open their businesses in Cobb and direct their private flights into McCollum Field.
"I would say that businesses are drawn to or start in Cobb County primarily because of the cost of doing business, quality public infrastructure and quality of life," Hughes says. "Certainly, the presence of the airport adds to this attractiveness of Cobb as a place to establish or grow an existing business given its ability to accommodate corporate aircraft and to serve as a safe alternative for transporting corporate executives and their clients to and from various locations around the world."
He says many of the companies who have headquarters or offices in the area maintain their own corporate aircraft to fly company executives and their clients around the world in order to conduct business in an efficient manner. "For many of these companies, it is easier to utilize the smaller, regional airports in order to travel for business purposes rather than having to deal with the challenges of traffic and long lines that are commonly associated with larger commercial airports," Hughes says.
Growth at The Airport Continues
On the horizon, there is construction of a new control tower and a U.S. Customs facility at McCollum that will function in cooperation with the U.S. Customs Border Protection. "This will permit international flights to arrive at Cobb County Airport to clear customs rather than landing somewhere else," Von Hagel says.
Thomas Huff, the owner of the airport's only full-service fixed base operator Atlanta Executive Jet Center, is funding the project, which is expected to open this fall. "This opens Cobb County up to global businesses so the opportunities are enormous," Huff says.
They've been considering this option for about the last three years, and Huff says it could be most beneficial to many of the Fortune 500 companies whose corporate executives often fly into and out of McCollum. "Most of these companies are globally connected and they need to be able to fly into McCollum from the Bahamas or Canada,"Huff says. "And with some of the modern aircraft that we have flying in and out of here, we see at least one flight a month going to Europe, but right now they can't come back into Cobb."
Upon completion of this customs project, Cobb would be the only private airport in metro Atlanta that allows flights to return to this area from outside the United States. "If you want to live in Cobb County or have a business in Cobb County, you need to have that infrastructure to help support people and businesses' decisions," Huff says. He took over ownership of the 34-year-old company in 2000, and since that time he has built a little more than 400,000 square feet of hangar space, 65,000 square feet of office space and Elevation Chophouse restaurant.
Atlanta Executive Jet Center provides fueling, aircraft maintenance storage and cleaning, as well as catering and ground transportation, and amenities in the terminal building include a pilots' lounge, flight planning/briefing room and Internet access. "You wouldn't even recognize this place today," Huff says. "There was only one public restroom when we took over."
The west Cobb native took a chance at running Atlanta Executive Jet Center because he saw a need for the county's airport to expand. "The area was growing and the airport needed to keep up with the times," Huff recalls. "We work very well with the county and helped develop a master plan to make the airport a great place for business."
He also invites the public out to the airport. "Whether you use the airport or not, come out and enjoy Elevation Chophouse and be a part of it by just enjoying lunch and seeing all the excitement," Huff says. "It's a great place for kids on Saturdays to come and watch the planes, and it's an excellent place to have dinner with a date on any night." Huff opened Elevation Chophouse seven years ago, and says it's not just a hotspot for locals. Everyone from former U.S. presidents to celebrities that are filming movies in the metro area often stop by for a nice meal before or after flying into McCollum.
To learn more about the airport, visit Cobb County Government online at cobbcounty.org, or check out Atlanta Executive Jet Center at atlantanorthsideaviation.com.
About McCollum Field
5th busiest in the state, 274th in the nation
170 takeoffs/landings per day
Nearly 900 employees
Economic impact: $112.4 million according to a 2010 study
Over $40 million in infrastructure improvements in last 20 years
Sits on about 320 acres of land
6,311-foot-long runway
What's on site?
Rescue Air 1: air Ambulance for organ donors/transplants
A variety of flight services, including flying lessons, aircraft maintenance and ground transportation
Georgia State Patrol base and other government agencies
Elevation Chophouse restaurant
18 business tenants, including one full-service fixed base operator: Atlanta Executive Jet Center
https://www.kennesaw.com/cobb-county-airport-in-kennesaw/